What is Mautic
Mautic is an unique marketing automation solution. Why? The fact that Mautic is an open source platform, is what makes it special. This means that the marketing automation software Mautic offers, is developed constantly by hundreds of individual developers. They contribute their ideas and skills to optimize the software. In this way the platform is continuously enriched with new functionalities, based on market demands.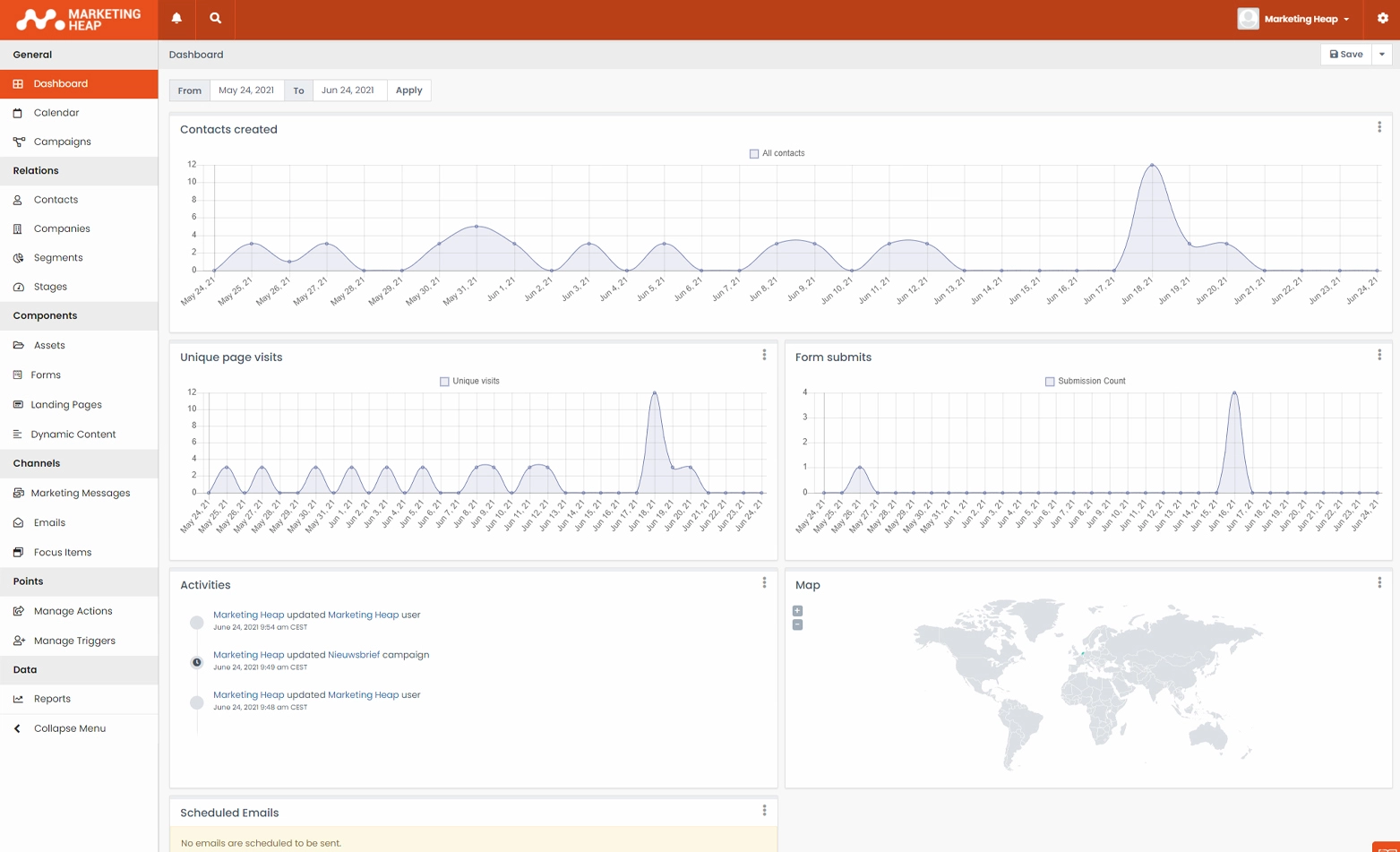 Mautic is a lot more affordable than other marketing automation platforms.
Experience it yourself
Start Now
---
By registering you will get 30 days of free access to a full featured Mautic environment
Why choose Mautic?
Mautic offers all important features needed for marketing automation: from an user-friendly management panel to the option to set up the platform to your wishes.
Connectivity

There are tons of integrations available to connect your Mautic to your website, CRM, Ecommerce, social media, and more.

High Quality

Mautic is built on Symfony, which is one of the most reliable, fast and secure PHP frameworks available. This makes Mautic a high quality system.

Innovative

Hundreds of individual developers contribute ideas and develop the software. In this way the platform is continuously enriched with new functionalities, based on market demands.

Insights

Mautic collects all sorts of analytical data from your leads, website, e-mails, forms and more. You can create custom analytics and reports, to give you insight in the information you're interested in.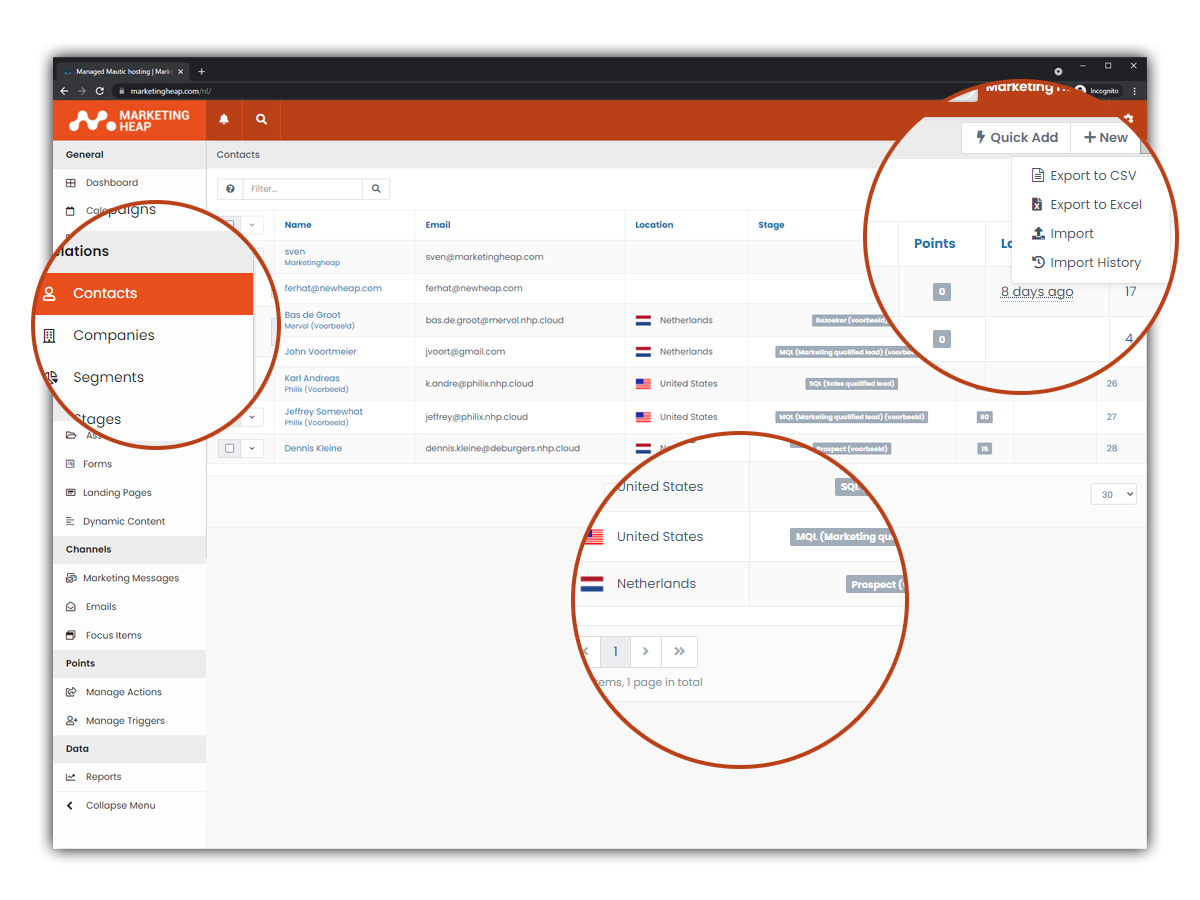 Why MarketingHeap Automation
Why choose MarketingHeap Automation? Firstly, as a company you want a reliable platform to run you marketing automation in. But you also need a partner who can help you start and further develop. MarketingHeap Automation has developed a marketing automation platform based on Mautic where everyone can get started with digital marketing in an affordable way. We offert the Mautic solution, host it, and offer you the necessary support. Besides that, we make sure your platform is secure and reliable. After all, we are dealing with personal customer data.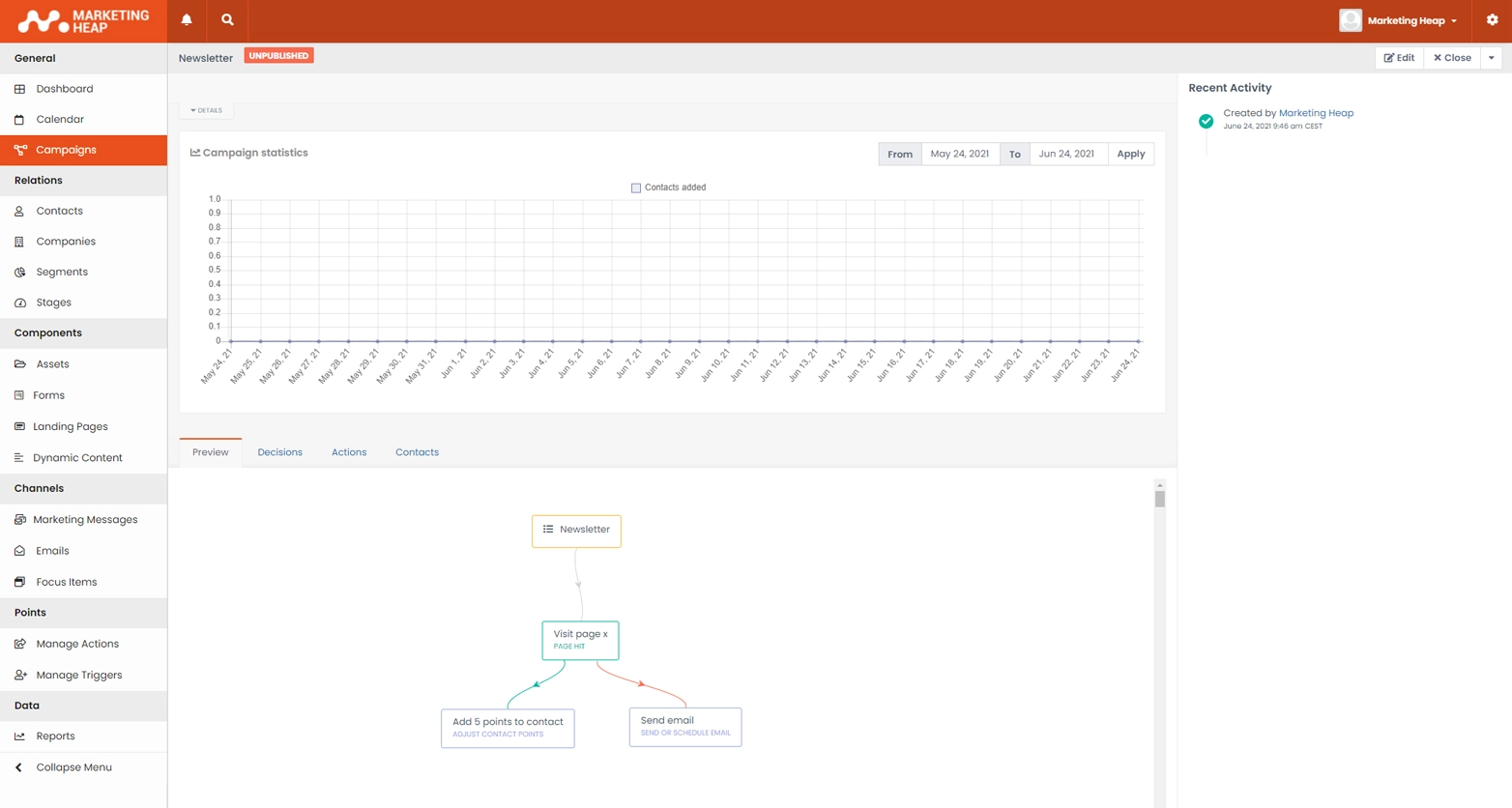 All features
Create advanced campaigns
Advanced logging
Understandable statistics
Why customer trust us
267
Happy Customers
---
With the combined expertise of MarketingHeap, our hosting, the Mautic software and marketing partners we have huge amount of experience and resources to meet customer demand.
Successful implementations
We did a lot of successful implementations and migrations for our customers. Giving us many experience in the do's and don'ts.
We can assist you in the migration process from your current marketing automation platform to Mautic. We have developed tools and gained knowledge to make the process as simple as possible. This gives you the opportunity to switch without huge investments.
Contact us for advise
Part of our happy customers
Mautic offers everything all other marketing automation platforms offer but in a much more elegant way, MarketingHeap Automation takes care of everything so you only have to worry about the marketing approach itself.
---
We really like using Mautic in our company, it gives us as a small company the opportunity to enjoy the full marketing automation experience for interesting prices.
---
Ready to get started?
Get your MarketingHeap Automation environment now
Start now