All the

Mautic features

you need

Mautic provides a great variety of features. Because it's open source software, updating the possibilities is commonplace!
Mautic with all of its benefits
See what Mautic can do for you
As a marketeer you have a lot of responsibilities. It takes a lot of time to carry out all the different tasks that come with it. By using a marketing automation tool you'll save yourself time by automating the (repetitive) tasks. Are you wondering what Mautic can do for you? See all the features Mautic has to offer below.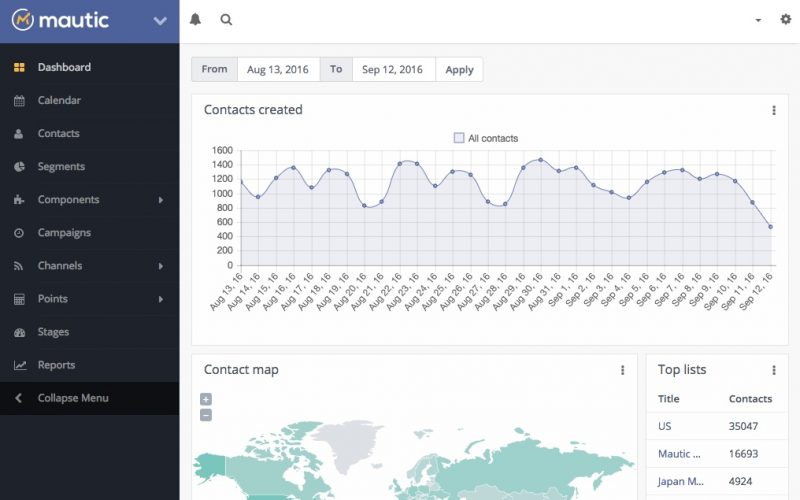 Campaigns
Mautic offers time and contact driven campaigns. With time driven campaigns you can automate repetitive tasks for specific events. For example: you can send follow up or reminder e-mails after 5 days.
Contact driven campaigns offer you the possibility to automate an action based on a contact event. For example: this can be a page visit, specific time spent on your website or some other event.
You can also combine these two types of campaigns to fulfil your demands.
Manage contacts and leads
Any kind of lead is stored as a contact in your website. There are two type of contacts. Visitors and Standard contacts
Visitors are people who visited your website, but haven't been identified by a form or any other interaction. These contacts will be stored in Mautic, but stay hidden until they do fill out a form and reveal themselves. So your list of contacts will stay clear.
Standard contacts are people who are identified by a form submission or other interactions. By identifying these contacts you'll receive their contact information.
Components
With components you can manage assets, dynamic web content, forms and landing pages.
Assets are files, for example whitepapers, e-books or infographics. These will be made available for download after a form submission or when a contact has completed another task.
Dynamic web content makes it possible to create content which can be shown in a website. There are two types of dynamic web content (DWC). Filter based and campaign based.
Channels
With channels you can manage e-mails, web notifications, focus, mobile notifications, text messages, tweets, and monitor social media.
Create e-mail templates and send mails to your contacts. Mautic keeps record of the mail statistics. For example, which contact opened the e-mails you've send and clicked on buttons in the e-mails.
With web and mobile notifications you can send messages to your contacts browser or mobile with permissions. Just like push notifications.
By using text messages you can send text messages (SMS) to your contacts phone.
Reports
Create your own customized reports based on selected data sources from Mautic. Visualize these reports with easy understandable graphs. These graphs can be added as widgets to your dashboard.
Points
By assigning points to events or actions you can score your contacts. Based on these points you can assign events. For example when a contact has a specific amount of points you can send him or her to your sales team.
Stages
By creating stages you can manage your contacts more easily. For example you can create a stage for buyers and move contacts which have bought your product to this stage.
Categories
With categories you can group assets, forms and contacts to a specific category. This makes it easier for you to group assets, forms, and contact from specific campaigns.
Plugins
Because Mautic is open source, it's easy for other developers to create plugins to add new features. To get a list of all the available plugins you can visit the marketplace. Can't find what you're looking for? We can help you to find the right plugin, or write a new plugin for you!
A complete
Marketing Automation

tool to power your sales

Mautic has it all. Creating forms, organizing contacts, nurturing leads, creating follow-up e-mails, and much more. Give it a try with our 30 day trial! Start your 14-day free trial with MarketingHeap Automation!
Start your
14-day free trial

with MarketingHeap Automation!

Within these 30 days you get to taste all the functionalities of Mautic without any limitations. Don't like it after 30 days? No hard feelings, you can destroy your trial environment without any trace! All your data will be deleted.
The Mautic community is growing!
Constantly new developed plugins to make your life easier as a marketeer.

---

MarketingHeap Automation plugins coming soon
Stay always up to date. We can automate your Mautic updates. You'll never have to spent time on keeping your environment up to date

---

Automated updates